*All seam allowances are 1/2″ unless otherwise noted.*
Getting Started:
Download pattern using link below (you will complete the checkout process through our shop but won't be asked for any payment info). Print pattern at 100%, checking test square for accuracy. Use tape to assemble pattern pieces, matching borders and diamonds.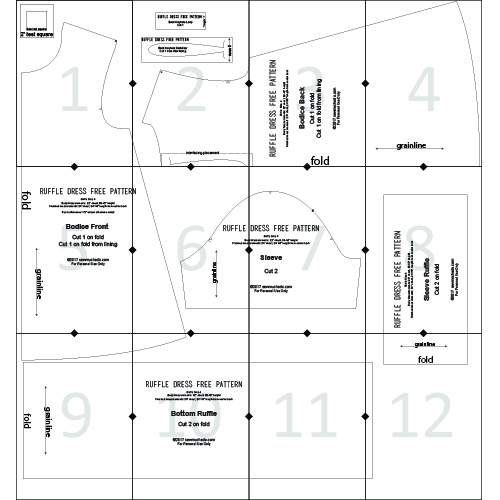 Cut fabric, lining, and interfacing as directed on pattern pieces. Follow manufacturer's instructions to fuse interfacing to wrong side of bodice back fabric, centering as pictured. Cut along curved lines on interfacing pattern piece and trace outer edge to transfer markings onto interfacing. Flip bodice back over and repeat the markings on the right side, being sure they match up with the marks on the wrong side (it's helpful to hold the fabric up to a window or light and trace them that way).
You must be logged in to view this content. Already a member, please log in here. If not, kindly register to view this content.
You will also receive our numerous free tutorials, have access to download loads of free patterns, sewing tips and more.